We have Donkeys for Everyone!
If your looking for a family pet, we have them.
Into the Donkey Shows? We have Registered show quality donkeys with Champion linage too!
How about a rehabilitation partner? Donkeys are kind and loving and are great for people in need.
If your seeking a Donkey to Guard your herd, you have come to the right place ~ Donkeys are natural guard animals (but readily accept the farm dogs who they know are supposed to be there).
Ranchers Love Our Guard Donkeys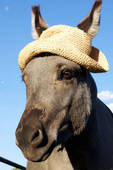 Our Babies are Handled at Birth, & are Very Gentle